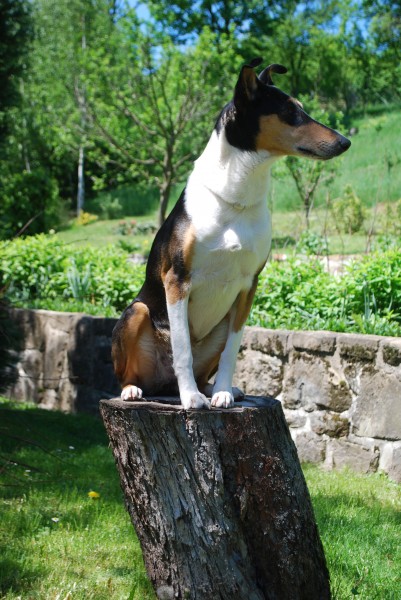 "Daisy"
born : 14.3.2010
kennel: Bohemia Elenor
breed: krátkosrstá kolie/ smooth collie
weight: 19,5 kg height : 53,5 cm
plnochrupá, nůžkový skus / scissors bite and fullteeth
chovná- výborná / brood bitch- excellent
kastrovaná/ castrated (2/2017)
CEA/PRA/KAT- prostá všech očních vad/ free
as puppy ( 28.4.2010)
CEA/PRA/KAT- prostá všech očních vad/free
as adult ( 3.1.2014)
CEA/PRA/KAT- prostá všech očních vad/free
as adult (13.4.2017)
CEA DNA- Normal ( po rodičích)
MDR1: +/+ ( Genomia 14.4.2010)
DM: N/N (Slovgen, 19.10.2013)
matka/mother : Artemis of Bohemia Balada otec/father: Jack Mack´s Sgoilear Sár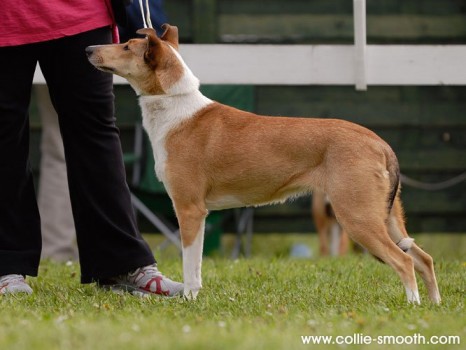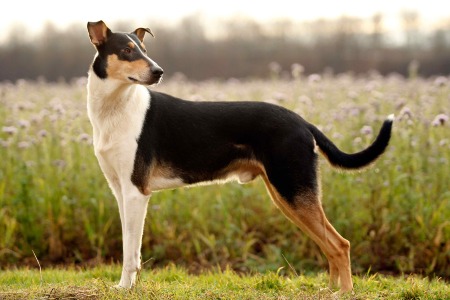 Daisy je můj vysněný pes. Je to velmi milá psí slečna,která to umí rozbalit když je potřeba nebo spíše řečeno tehdy když chce ona. Rozhodně není ten typ psa co by dělal něco" jenom" kvůli vašim krásným očím. Prostě ona musí chtít a nic jiného na ni neplatí. Má ráda všechny lidi, na všechny cizí návštěvy se tváří jako: Ahoj to sem ráda, že jsi zase tady, dlouho sem tě neviděla.J e jedno zda je to muž, žena,miminko v kočárku či důchodce na vozíčku či o berlích, ke všem se chová tak jak to daná situace vyžaduje a to ona pozná, jak se ke komu chovat, kdy může divoce skákat na uvítanou či jen vesele běhat okolo. Také má ráda všechny zvířátka,především s každým psem je hned kamarád a chce si hrát a všechna ostatní zvířena je pro ni zdroj zábavy. Ráda se předvádí na výstavách, miluje coursing, agility a ovečky, bohužel panička ji tohle všechno není z časových a jiných důvodů schopna poskytnout v takové míře jaké by si představovala. Pevně věřím, že se to,ale zlepší.
Daisy je krmena syrovou stravou BARF, prospívá na ní a chutná ji :-)
About Daisy
Daisy is my dream dog. It's a very nice dog lady who knows how to extract it when needed or rather when he said he wants her. Definitely not the type of dog you would do something "only" because of your beautiful eyes.She loves all people, all foreign visitors to look like: Hi,here's glad you're here again, long seen you here. It does not matter whether it is man, woman, baby in a pram or a pensioner in a wheelchair or on crutches, all behave as the situation requires it, and she knows how to behave to whom, when can jump wildly to welcome or just merrily run around. Also, she likes all animals, especially with each dog is just a friend and wants to play and all the other fauna is her source of entertainment. She likes showing off at shows, loves coursing, agility and sheep, owner unfortunately it is not all this time and able to provide other reasons to the extent they could have imagined. I firmly believe it, but it will better.
Daisy got its name by flowers-especially daisies :-)
aktualizováno: 13.06.2017 13:15:29